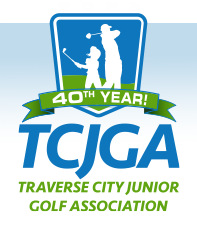 Bay Meadows Family Golf Course's alliance with Traverse City Junior Golf Association strives to promote the development of our local youth.
Bay Meadows has long been known as the 
"leader for junior golf in Northern Michigan".
  There have been thousands of juniors that have learned the game of golf at Bay Meadows with many going on to be successful tournament players. Our award-winning golf instructors have years of experience making golf fun, exciting and challenging for junior golfers. Becoming more knowledgeable about golf as the junior becomes a better player is important, but we stress life skills like 
integrity, respect, honesty, sportsmanship and fair play.  
Our family atmosphere encourages and rewards juniors to play golf.
For years we've had an alliance with Traverse City Junior Golf Association. The alliance allows the junior members of TCJGA and their immediate family discounts on golf fees, range balls, lessons, and more special offers when the family visits Bay Meadows Family Golf Course.
We offer free junior clubs for our junior golfers which can eliminate the need for a family to invest in clubs for a beginning junior or a junior that has outgrown their clubs.
As soon as the snow melts, it is officially golf season! Spring camps and clinics are focused around knocking off the rust, and getting back into the groove. This makes it the perfect time for the new golfer to start getting involved.
LITTLE JUNIORS CLINICS
SPRING "FUN"DAMENTAL CAMPS
SPRING LEARNING LEAGUE
COURSE READY CLINICS
SPRING ADVANCED PROGRAM
The season is well underway. During the summer, we continue our Little Juniors clinic for the new golfer, but also step into our flagship camp.
LITTLE JUNIORS CLINICS
SUMMER "FUN"DAMENTAL CAMPS
As the leaves begin to fall, we move into our fall league. Giving juniors the chance to both practice, learn, and play on our courses. This wraps up everything juniors have learned throughout the year, or gives a new golfer the chance to experience it all.