is a game-changing opportunity for boys and girls to learn and play golf. The program brings family and friends together around fun, team golf experiences with expert coaching from PGA and LPGA Professionals.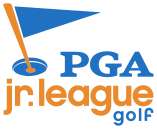 is all about the recreational and developmental nature of regular season matches held between March 1 and July 31. During one game, teams play four 9-hole matches in a popular two-person scramble format, reinforcing the team concept and creating a nurturing environment for learning the game. Coaches can also substitute players every three holes so that all the golfers on each team can participate.
Ages 13 & under only
is a national program for boys and girls ages under the age of 13 to learn and enjoy the game of golf. Participants wear numbered team jerseys and play two-player scramble matches each week.  An all-star team is chosen after the end of local play with a chance to advance to section, regional, and national qualifying rounds.
Schedule
1:00 PM Practice   ~    2:30 PM Matches
    Wednesday, June 19th 
    Wednesday, June 26th 
Wednesday, July 3rd
  Wednesday, July 10th
    Wednesday, July 17th 
    Wednesday, July 24th 

Costs
$75.00 PGA Registration Fee must be paid first:  www.pgajlg.com
Deadline to register with the PGAJL is June 1, 2019
$250.00 per player TCJGA Members $225.00
Includes
Instruction, Range Balls, Golf Fees, Team Jerseys, and other Gifts